Adidas Men's Lite Racer Adapt Running Shoes No Laces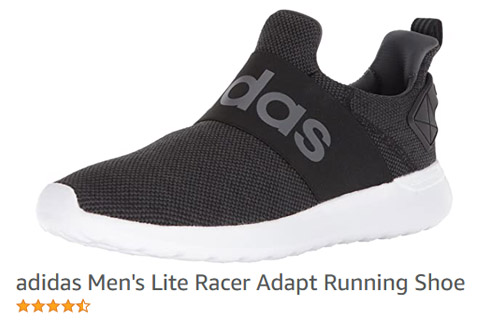 Adidas was for a long time the brand with the classic sport shoe design. White or black shoes with thick laces. A strong simple design used by the hip-hop and dance scene.
Still it's one of the brands most popular amongst the retro and vintage clothing shops. The trainers, jogging trousers and t-shirts with the three stripes are a classic.
 But Adidas did definitely developed it's style and innovation on their sneakers. The Adidas Men's Lite Racer the simple design with it's textile, rubber sole and slip-on construction combined the non nonsense style and sportive look in one.
These Adidas Lite Racers are for casual use which is accentuated by the slip in design. Quick and easy, no laces to worry about. Which is great for in and around the house.
The Adidas Lite sneakers came out in 2019, but the stylised design promises this sneaker to be a classic. Often less is more in the design world and the Adidas Lite are indeed beautiful in minimalistic sport shoe design.