Step in sneakers by Adidas.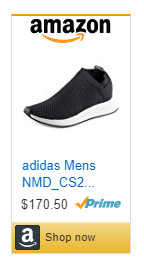 The Primeknit step in sneakers by Adidas are a result of a fruitful relationship between the Japanese based label United Arrows & Sons and Adidas. The collaboration between the two streetware fashion labels worked amazingly.
The unique intake of the Adidas style and the special design of United Arrows & Sons gave us some well designed step in sneakers. The ultra fine and minimalist upper part of the shoe has a sock-like fit to it. The Primeknit trainers have the best of both worlds. The urban look and class Japanese minimalist design.
The boost sole of the Adidas Primeknit is comfortable and the shoe forms around you foot like a sock. The step in sneaker doesn't have any leather parts. It has a rubber outsole and a textile upper with a synthetic lining.
Adidas step in sneakers for men. The Primeknit CS2.
The heel of the trainers has a special artwork courtesy of guest designer Kosuke Kawamura. Kawamura is the comic and underground artist of Tokyo today. His black and white "shredder" style is distinct and personal. The unlikely successful  combination of Adidas en Kawamura makes these step in sneakers a unique design.
You can follow the artist Kosuko Kawamura on Instagram if you like @KosukeKawamura
It's always great to see big brands like Adidas collaborating with young artists. Innovating and keeping up to date with the newest trends. In short the Primeknit step in trainers have scored high on 3 fronts. Artistic, Stylistic and Comfort.
An alternative for the Primknit trainers of Kawamura are the Adidas Originals Men's NMD this model is close to the Primeknit CS2 but there is a more choice in colour and design.
The costumer reviews on Amazon are all positive and 4 to 5 stars. (you can read them here). The Adidas Originals as the Primeknit are both sober in design, even if some of the Adidas Originals are more colourful. Still both fashion sneakers can easily combined with many a wardrobe.