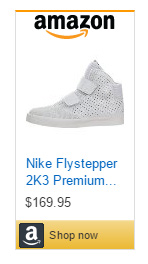 The Flystepper 2K3 Nike sneakers with Velcro closure were first available for sale on Amazon May 2015.  It's loosely based upon the $5000 Air Yeezy 2 NRG Nike sneakers. As the Yeezy 2 hype took of with it's collaboration between Nike and Kanye West (hence the name Yeezy which was the nickname of the rapper Kanye West), Nike saw the possibilities of the design and launched it's own versions.
The design of the Nike Flystepper 2K3 is different though, had the original Yeezy sport shoes laces, the Flystepper Nike sneakers are without laces, instead there is a Velcro closure, which was also a part of the original Yeezy design.
Luckily for us mortals, the Flystepper is a bit cheaper then the original Yeezy sneaker which you can still buy on Ebay and Amazon, but prices go rapidly over a $5000. The Flystepper 2K3 is a good alternative for a Velcro sneaker. The Nike Flystepper 2K3 PRM sneakers kept the pyramid textured rubber paneling on the nose of the sport shoes but and unlike the Yeezy 2 the Flystepper is all-white. Like the Air Yeezy 2 "Red October" the Flystepper has a red sole as well.
There are different versions of the Nike Flystepper, The Nike Flystepper 2K3 hi top trainers is a bit more fashion sneaker like and you can find them in different flavors. From midnight navy star blue to metallic cool grey or red gym red. They have a smoother nose and general look and feel.
The white Nike Flystepper 2K3 Premium is  made of 100% synthetic leather. The is sole 100% rubber as well. These Nike sneakers with Velcro closure are a good alternative for Vegetarians who don't want to wear leather.
If you want a leather 2K3 fashion sneaker then you can go for the black version : The Men's Flystepper 2K3 Prm Casual Shoe