Adidas Men's Lite Racer Adapt Running Shoes No Laces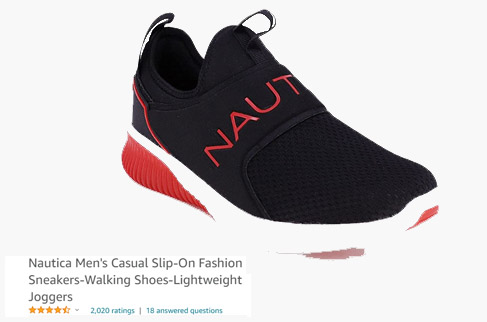 You don't care much about the brand, but simple want good performing slip on sneakers? Nautica has brought some elegant designer sneakers on the market for half the price as most famous brands like Nike or Adidas.
Nautica is an Amrerican brand founded in 1983 and  has been producing quality sneakers and apperel ever since. It's perhaps an undervalued brand and not well known but the products are good.
Nautica Men's Ultra Lightweight Breathable Mesh Sport Walking Shoes Casual Sneakers.
Nautica products are styled with timeless design and premium quality that enhance today's energetic lifestyles, yet they recognize the need and desire for balance. Balance of comfortability and style. 
The nautica slip on sneakers for men are available in 25+ differnt flavors! From simply black to funky blue yellow.
They are easy step in step out sneakers that are great for casual use.
A Variety of Shoe Options for Men
Nautica has a lot of options regarding loafers and slip on sneakers. The  EVA midsoles deliver cushioned comfort and amazing support. The Nautica sneakers are crafted with rubber outsoles providing increased durability that withstands even the toughest environments. 
Together with the affordable pricetag for these step in sneakers is something worthwhile considering if your looking for some new running shoes.