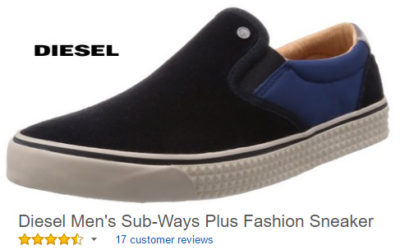 Diesel Subway loafers. In the Diesel subways loafer Diesel shows us again how it combines traditional fabrics to create a modern and comfortable...
Other alternatives for Nike or Puma Sneakers without laces.
 Of course Nike and Puma are not the only brands who went for shoes with an alternative closure system. Skechers and Salomon for instance have found an alternative for the the problem of strings as well.
Salomon uses its quicklace system giving the all terrain running shoes a tight fit. As the last thing you want is to stumble over your shoelaces when you're doing your round. And besides the practicality of the trail running shoes, they are really funky and available in many colours.
The Cyber London by Asics is a good alternative for the Lunarfly by Nike. Both have a big Velcro closure that seals the shoe and gives you the comfort of a personal sneaker fit.
It's a well appraised sport shoe with 4.5 stars on Amazon and lots of user reviews.
The Adidas Performance Trainer is also an option. These trainers have the same grand gesture as the Nike shoes. In the end it all depends on personal taste.
That's why it's so great that you have such a huge choice of sneakers. In the end you definitely find something that represents who you are and what you feel comfortable with.
Loafers, designer shoes or sneakers without laces.
 Long gone are the days that you had separate classes of trainers, loafers, designer shoes of boots. Many shoes are cross overs. Classic shoes with the features of sport shoes. Loafers with a classic step in step out design almost look like sneakers. And we all remember the tall fashion design sneaker with a wedge.
All those crossovers have definitely made the shoe world a richer place. There are literally millions of shoe designs which is great but confronts us with a problem as well. The problem of choice.
In a way it's a matter of luck finding the perfect shoe. But if you are looking for some sneakers without laces then at least you can find a great selection on this site.
As for making it even more transparent you can find an extensive list of sneakers without strings you can buy at Amazon. Sport shoes with at least 4 stars and good reviews.
Special sneakers without laces design.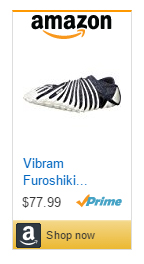 One of the latest and most original sneaker designs is inspired by the Japanese art of wrapping, called Furoshiki. Furoshiki is an old tradition were the Japanese wrap up their cloth when going to a public bathing house.
This specific idea inspired sneaker designers of Vibram to design trainers that are wrapped around your feet. You don't have to tie strings, zip or force you feet into small shoes. You simply wrap the material of the sneaker around your feet and adjust it like you see fit.
An amazing innovation in the shoe industry and it would be great if more shoes could be designed like this. No more stepping into shoes, but the sneakers without laces slide natural around your feet!
Puma purple laceless sneakers for women.
Puma designed a whole range of laceless sneakers for women with its Fierce trainers line. Perhaps the best know are the Fierce Cross series. But besides these purple laceless sneakers Puma brought to us a lot more.
The Purple sneakers called Fierce strap are elegant as they are comfortable.  You can also order them in pink and black by the way, if purple laceless sneakers are not your thing.
The demi-cut, lightweight sneakers combine the tradition of the fashion sneakers with the sportive look.  Which is great if you want to use them for multiple occasions. They do great for a night out of town, but just as well for a walk in the park.
The popular design of the Puma Fierce Core Cross Trainers brought them to a more fashionable design. The straps around the sneakers make them different though.
The shaft measures approximately mid-top from arch, which is great for a supportive and comfortable fit. They are brought as a run-train sport performance sneaker, but they are better labeled as fashion sneakers. Nevertheless the purple laceless sneakers will do great for some sportive action.
Tech details: The shoes are vegan friendly. No leather is used.
FEATURES + BENEFITS

FIT: The special laceless closure provides a superior fit, while the PUMA-branded gore at the shoe's collar seals the tongue to your ankle to ensure a supportive fit
STABILITY: Additional heel thickness on medial and lateral sides supports side to side movements
GRIP: Solid rubber outsole pods provide full ground contact and traction without weighing you down
MOVEMENT: The pivot point in the outsole allows for easy 360-degree movement, while a full-length flex groove encourages fast and dynamic multi-directional movement
The shoes only ship to the U.S. at the moment. I hope they will be available worldwide soon as they are definately sport shoes to be seen with. As always, if you consider buying sneakers from Amazon, you can send them back if they do not proper fit. Amazon is generally speaking relaxed about these things and have a great customer care service.
Other Purple laceless sneakers to consider.
Puma also designed a lower model. the Puma Burst. A cross trainer they sell in the color purple too. So if you're in you're looking for purple laceless sneakers these two are definately sneakers to look into.