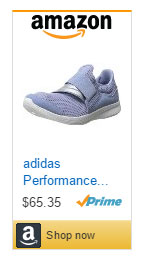 Adidas Performance Lite Slip On Sneakers for Women.
The performance slip on sneakers by Adidas for women shows that funky design and comfort can work together. The slip on sneakers have a big elastic strap closure which makes the shoes ideal as easy step in step out shoes.
The Adidas performance slip on sneakers look a bit havy but they are surprisingly light weight. The woman's sport shoes are easy to wash. Another advantage of the sneakers elastic strap closure is that you do not have to wash the laces. You can simply put the sport shoes in the washing machine to clean.
The design of the Adidas Performance Lite Slip On Sneakers show that they are great for casual wear. As the slip on trainers come in five different funky colors they don't do bad for a night in town either. Most of the costumers at Amazon are positively surprised about the comfort of the Adidas Performance sneakers. They can give you that extra bit of energy if your walking in the shopping malls or go for a museum visit.
Adidas Slip On Sneakers for Casual Use.
The Adidas Performance Women's Lite are indeed lightweight fashion sneakers with only a 6.4 ounces for size 7. The sneakers are not designed for running a 5K but they are doing great for every day use. As the breathable air mesh of the shoes gives it a comfortable fit around the feet. The outer sole is made of high-wear durability, the quality you can expect from Adidas.
As a fashion sneaker with an elastic strap closure these shoes have the looks and the feel. The Adidas performance trainers became available on Amazon in the summer of 2015 and are sold ever since with lots of stars in the customer reviews.