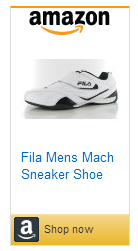 The elegance of the Fila Mach series design is stunning. Simple but strong black and white curves that gives the shoe it's sportive look. The shoes fit perfectly well with jeans or other casual wear. The fashion sneaker is decent enough that you can use it for official work, don't make the mistake though to use them as running shoes.
The sport shoes are more designed to be fashion sneakers then for running or jogging, of course you can do so, but you will wear them out sooner then you think. That said I think the Fila Mach series are comfortable fashion sneakers where Fila has used the qualities of a Velcro closure in an elegant and at the same time functional way. Great for driving.
There is also a complete black variation; The Fila Mach 6 for men, it's a more conventional but still sharp and sportive design. The obvious advantage with black is that they become less dirty, although you can always through the sport shoes in the laundry machine if needs be. But they are also a bit more chique and shoe-like in a way.
The first time I heard about the name Fila was back in the eighties. It hadn't anything to do with sport shoes though. But strangely enough with car seats. Lancia has asked Fila to design it's fabrics. It was a cool design and something that I hadn't seen in cars before. Fila as an Italian fabric industry apparently had combined it's crafts with Lancia which turned out a great combination.
Fila started it's factory in 1911 in a small Italian town in the Alps just like Salomon. Biella is known for ages to be a town that delivers fine textiles. Some of the statues in Biella that dates back to 1245 already refer to woolworkers and weavers. and in the 17th century silk was an important industry in Biella. It's only fitting that Fila began in a village with a rich heritage in the fabrics and fashion industry.